3v3 Tournament for
EU

and

NA

Note: This event has ended. You can find the videos on Twitch. Follow us on Twitter and Discord for news on the next tournament.

Update: The reception to the tournament has been extremely positive as we witness a surge in returning players. A lot of people are not aware that Vainglory is still alive and that playing with friends is possible. If you are one of them, we recommend reading the Vainglory FAQ and Party Guide first. We are answering all your questions on Reddit and Twitter.
Tournament Format and Rules
With mizu in charge, in bf we trust is hosting a 3v3 tournament for EU and NA regions in April. Both tournaments follow the same format and rules. Here is a summary:
All rounds best of 3; finals best of 5.
Hero draft happens outside the game in a custom order.
Players must use their registered IGNs in game.
Players must stay in their voice chat throughout the game.
At least one player from each team is required to stream the game.
Each team must submit a screenshot of the match results.
The prize will be split equally among the winning team unless the moderators are informed of a special arrangement beforehand.
Timezone: Please note that EU tournament will follow GMT while NA tournament will follow EST.
3v3 Tournament for
EU
Prize pool:

€300

Register by: 21 April 2022, 23:59

GMT

Bracket released: 22 April 2022
Games begin: 23 April 2022, 17:00

GMT

Finals and semifinals: 24 April 2022, 17:00

GMT
3v3 Tournament for
NA
Prize pool:

TBD

(Estimated at ~$900)
Register by: 28 April 2022, 23:59

EST

Bracket released: 29 April 2022
Games begin: 30 April 2022, 15:00

EST

Finals and semifinals: 1 May 2022, 15:00

EST
Both tournaments will have livestream and commentary so be sure to tune in to the respective tournament Discord servers at the right time! Streams will also be available on YouTube later.
Not sure where to look for teammates? Start with our directory of Vainglory communities. The places listed there are where the most active players mingle!
---
Promotional Poster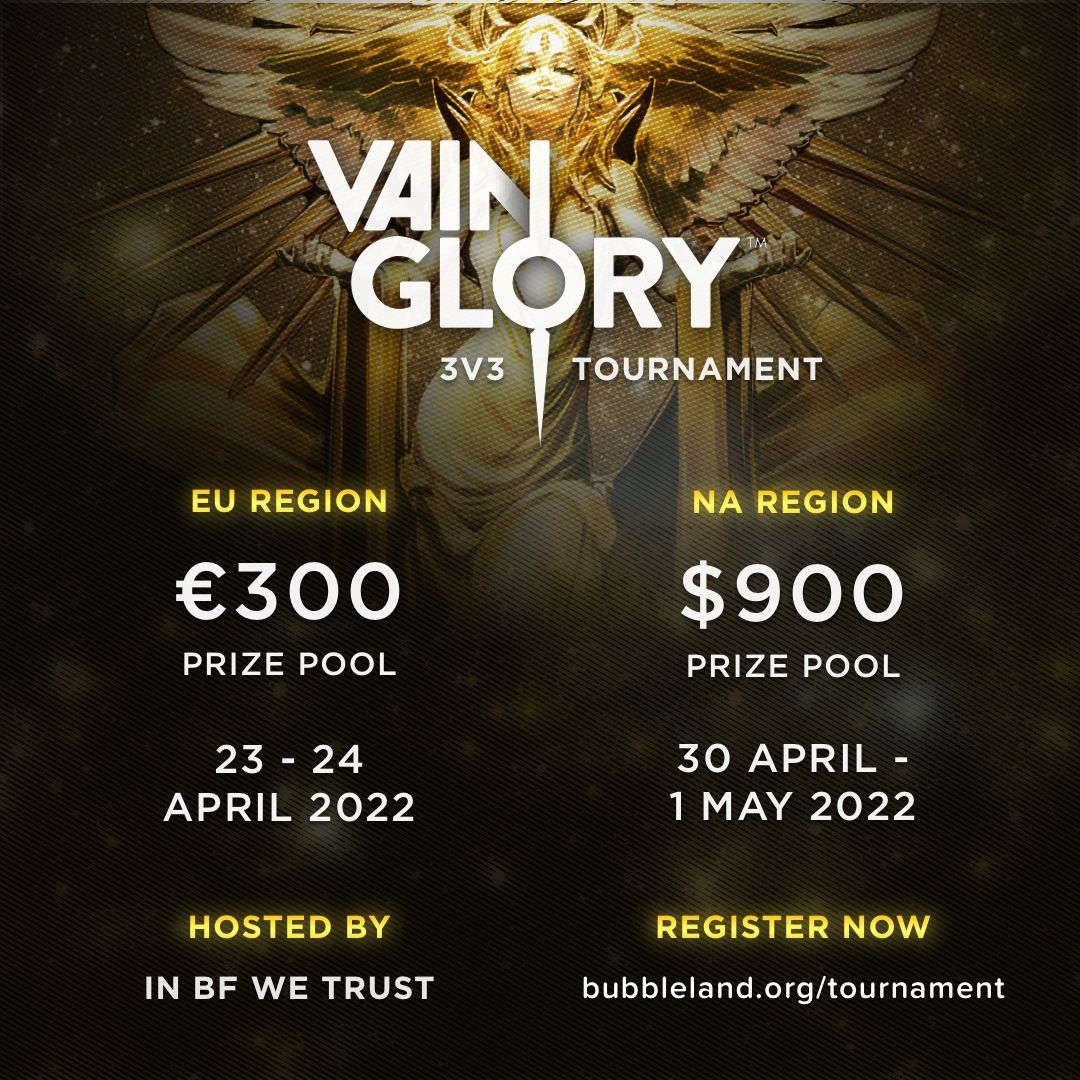 ---
If you wish to be notified about the latest news and happenings in the Vainglory community, please join the Bubbleland Discord and get the Vainglory role. For Vainglory guides and resources, check out our work here.
Posted on April 13, 2022
#vainglory
#tournament